---
Kitchen Chemistry
Chemistry and Physics in the Kitchen
---
On this site you can find scientific facts about the chemistry of food and the physics of procedures used for cooking and other kitchen techniques.
List of online information on chemistry and physics in the kitchen.
---
---
Content:
---
---
---
---
Current Articles
---
The Chemical Composition of Caramel
Sticky stuff: Jacobs researchers reveal the sweet secret of caramel.
---
---
Details
---
Whey Powder
… and whey products - Format: PDF - [e]
---
---
Lecture Notes, Tutorials
---
Amazing Kitchen Chemistry
Projects you can build yourself - Format: PDF
Kitchen Chemistry
Learning about food through chemistry - Format: PDF
Kitchen Chemistry
Lecture notes. MIT Open CourseWare - [e]
---
---
Chemical Reactions
---
Browning Reactions
Nonenzymatic browning - Format: PDF
Browning Reactions
Important types of browning - Format: PPT
Caramelization
The chemistry of the caramelization reaction
Maillard Reaction
Reaction mechanism and products - Format: PDF
---
---
Data and Databases
---
E-Numbers
List of E-numbers
Food Components
Ingredient guide and food glossary
---
---
---
Related Books and Scientific Literature: Kitchen Chemistry
---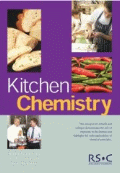 Ted Lister, Heston Blumenthal
One of the most exciting things that has happened at my restaurant, The Fat Duck, recently is the Royal Society of Chemistry producing this resource for schools - Kitchen chemistry. It is based on taking a scientific approach to cooking - an activity that has traditionally been regarded as an art, rather than a science. Topics range from the simple (what is the role of salt in cooking vegetables?) to the complex (separating volatile flavour components in foods by gas chromatography mass spectrometry), to the 'just for fun' (breaking the world record for ice cream making by using liquid nitrogen as a coolant). What the RSC has done is to provide flexible material that teachers can 'dip into' that relates the chemistry that goes on in the home or restaurant kitchen to that which students learn about in the school curriculum.
Kitchen chemistry makes chemistry more accessible because it brings together scientific theory and everyday practicality. After all, we all know something about cooking even though we may not do it very often, and children are no different. When I left school I had no scientific background whatsoever. I have taught myself slowly and with much difficulty, so this new initiative is music to my ears. I just wish it had happened a few years earlier.
Royal Society of Chemistry; 2005
---
---
---
---
Information about this site:
To include your website to the Internetchemistry directory, please use our registration form or send us an eMail.
The author- or copyrights of the listed Internet pages are held by the respective authors or site operators, who are also responsible for the content of the presentations.
Entries: 11
Last update 16.11.2016
Keywords: Kitchen, chemistry, physics, molecular, basics, cooking, reactions, mechanisms
---
Citation: http://www.internetchemistry.com/chemistry/kitchen-chemistry.htm
---
© 1996 - 2016 Internetchemistry