---
Image: At least 4000 chemical components can be found in caramel. [Cedit: iStockphoto]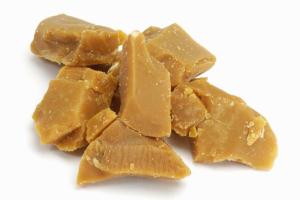 ---
Slowly heating sugar until it transforms into tasty caramel is one of the culinary world's basic delights and one of the first exposures of children to chemistry.
Teasing apart the chemical composition of caramel has, however, been a sticky problem for food chemists, due to the enormous complexity of the product mixtures obtained.
Nikolai Kuhnert, Professor of Chemistry at Jacobs University, and his team of researchers have developed a method to analyze the chemical composition of caramel.
The sweet consists of at least 4000 chemical components. These components are not only formed in caramel production, but can also be found in many other products that contain sugar and are heated up.
Caramel is also used as a food coloring; be it shades of yellow, red, brown or black, caramel is used in more than 80% of colored foods such as coke, whiskey, beer, soy sauce or cookies.
Different caramel colors can be created by a variety of methods: temperature changes such as increasing the heat would result in a deeper black. Additives such as sulfite or ammonium carbonate can also be used during the heating process to influence the color.
Almost exactly 100 years ago Louis Camille Maillard discovered that sugars - such as glucose, fructose and saccharose - undergo dramatic chemical changes when heated.
The main problem when examining the chemical composition of caramel lies in the enormous complexity of the product mixtures obtained. Sugar loses water when it's heated and in the end caramel only contains 10% of sugar, all other components have been newly formed.
Prof. Kuhnert and Jacobs PhD student Agnieszka Golon have now been able to identify the reaction products that arise from heating and to understand the chemical reactions taking place.
Using high resolution mass spectrometry (MS) they have found that at least 4000 compounds account for the chemical composition of caramel demonstrating that simple delights can be complex.
These include oligomers with up to twelve carbohydrate moieties formed through unselective glycosidic bonds, dehydration products of oligomers that can lose up to eight water molecules, hydroxyfurfural derivatives, and colored aromatic products.
"Our research provides for the first time a comprehensive account of the chemical composition of one of mankind's oldest, most popular, and most important dietary materials," says Prof. Kuhnert.
The new findings are relevant in a variety of fields for example when trying to improve food colorings. They also play an important role in a health context for now it can be determined which of the caramel components are actually beneficial to our health and which are not.
Prof. Kuhnert's method also opens up new perspectives for food chemistry. Complex foods such as tea or chocolate can now be analyzed.
---
Further Information:
Agnieszka Golon and Nikolai Kuhnert:
Unraveling the Chemical Composition of Caramel.
In: Journal of Agricultural and Food Chemistry; 60 (12), pp 3266 - 3274, published online 1 March 2012, DOI 10.1021/jf204807z
Source: Jacobs University, Bremen, Germany
---
Last update: 14.04.2012.
Perma link: https://www.internetchemistry.com/news/2012/apr12/caramel-chemical-composition.php
---
---
---
---
© 1996 - 2020 Internetchemistry
---
---
---
---
---