---
Water treatment
Water treatment
---
Water treatment is the application of processes to make water more acceptable for a desired end-use (drinking water; coolants, water for use in industrial processes, medicine, etc.).
List of suppliers and producers of systems and chemicals for water treatment.
---
---
Content:
---
---
---
---
International manufacturer and supplier
---
BWA Water Additives
... is the leading global provider of specialty water solutions for industrial & process water treatment, desalination, pulp and paper, oilfield, and other process industries - [e]
Excel Water Technologies
... offers reverse osmosis water filters, softeners, and purification as well as under the counter water treatment - [e, es]
ProMinent
Equipment, systems and components for water treatment - [d, e, ...]
Siemens Water Technologies
... provides the most comprehensive, cost-effective and reliable treatment systems and services - [e]
Süd-Chemie
Industrial Water and Process Technologies - [e]
---
---
Germany
---
Aqua-Concept
... ist ein spezialisiertes Unternehmen für die individuelle chemische Wasseraufbereitung in Industrie- und Motorkühlsysteme - [d, e]
Aquadosil Wasseraufbereitung GmbH
Marktführer in der physikalischen Entsäuerung - [d, e]
Berkefeld
Planung, Konstruktion und Realisierung von Anlagen zur Trink-, Produkt- und Prozesswasseraufbereitung - [d, e]
Carbonit Filtertechnik GmbH
... ist Spezialist für Wasserfilter, Ultrafiltration, Aktivkohlefilter und Filtertechnik. Das Unternehmen ist ist bekannt als der Ansprechpartner zu den Themen Nanofiltration, Verkalkung, Entkalkung, Umkehrosmose und Ionentauscher. - Wasserwirbler, Wasserbelebung, Mikrofiltration, Duschfilter, Sanuno, Vario Classic, Wasserfiltration, Kartuschen, Aktivkohleblock, Aktivkohleblockfilter - [cn, d, e, es, f, it, ru, tk]
Evoqua
Wasserbehandlung - [d, e]
Hydro-Elektrik GmbH
Jahrzehntelanges Erfahrungsspektrum auf dem Bereich der Wasseraufbereitung und der Wasserversorgung - [d, e]
Kyll Wasseraufbereitung
Maßgeschneiderte Apparate und Anlagen für nahezu alle Bereiche der Wassernutzung - [d]
Prominent Gruppe
Anlagen, Systeme und Komponenten zur Wasseraufbereitung - [d, e]
WABAG VA Technologie AG
… ist eines der weltweit führenden Unternehmen auf dem Gebiet der Wasserreinigung - [d, e]
Wedeco AG
Chemikalienfreie Wasserbehandlung mit UV-Desinfektion und Ozonoxidation - [d, e]
---
---
United States of America, USA
---
American Water Chemicals, Inc.
AWC is an international supplier of Water Treatment Chemicals with a versatile line of products ranging from boiler and cooling tower chemicals to metal working fluids and conveyor chain lubricants - [e]
Aqua-Pure
... is a leading provider of industrial and municipal wastewater services and technology solutions - [e]
Aries Chemical
… and municipal water treatment chemicals, equipment and service for a host of water dependent operations - [e]
Degremont Technologies
... is a worldwide network of water treatment equipment providers and manufacturers, combining the forces of expert companies for municipal, industrial and leisure markets - [e, cn]
GE Water & Process Technologies
... provides water treatment, wastewater treatment and process systems solutions - [e]
Hawkins, Inc.
... supplies products and equipment to treat drinking water, municipal and industrial wastewater, industrial process water, and non-residential swimming pool water - [e]
Lakeside Water Treatment
... is a manufacturer of commercial and industrial water treatment equipment - [e]
Mid South Chemical
... is a leading manufacturer of water treatment chemicals - [e]
Nalco Company
Water Treatment and Process Chemical Technologies - [e]
Professional Water Technologies
Specialty chemicals for reverse osmosis (RO) water treatment systems - [e]
Qemi International, Inc.
... specialty is superior quality water soluble polymers and specialty chemical products for a variety of industries - [e]
Res-Kem Corp.
... has designed and built a complete line of custom and standard water treatment equipment for residential, commercial, industrial and municipal water applications - [e]
Robert B. Hill Co.
… provides a full range of customized industrial water treatment solutions, including industrial water softeners, boiler water treatment, cooling tower water treatment, and commercial water softeners - [e]
Samco Technologies
... is a provider of custom integrated water, wastewater and process filtration / separation solutions for industry - [e]
WaterProfessionals
Industrial Reverse Osmosis - [e]
---
---
United Kingdom
---
Accepta
Water Treatment Chemicals, Water Testing Kits & Equipment; Reagents, Pumps, Meters & Control Equipment - [e]
Aquadron
Aquadron is a Legionella Control Company. We disinfect the whole water system, all of the time, with a non-hazardous biocide to remove pathogens and biofilm and it allows you to lower water temperatures thus saving energy - [e]
Eflo International Ltd
... is a UK company operating in the field of waste water treatment and grey water recycling - [e]
---
---
Switzerland
---
Katadyn AG
Katadyn is the global leader in portable water treatment - [d, e, f]
---
---
Canada
---
Enercon Water Treatment Ltd.
... manufactures a wide range of chemical products for boiler water treatment, cooling tower water treatment and closed re-circulating systems - [e]
Pace Chemicals Ltd.
... is a specialist in providing water treatment programs, water treatment equipment and treatment chemicals for steam boilers, heating boilers etc - [e]
Thermidaire Corporation Canada Limited
Industrial water treatment chemicals - [e]
---
---
China
---
Shandong TaiHe Water Treatment Co., LTD
... is a professional manufacturer of Water Treatment Chemicals, active in all R&D, production, marketing and technical service - [cn, e]
---
---
India
---
Albatross Fine Chem Limited
Water Treatment Chemicals and Service Providers in India, Singapore - [e]
AquaFilsep
Water treatment chemicals - Aqua Filsep Inc. provides boiler feed water treatment, industrial water treatment, cooling water treatment and chemicals for water treatment - [e]
Va Tech Wabag Limited
... offers innovative and value added solutions to its clients for total water management and is an undisputed leader in India - [e]
---
---
Sweden
---
AnoxKaldnes
... is a high technology company focusing on biological wastewater treatment - [e, es, no, se]
---
---
---
Related Books and Scientific Literature: Water treatment
---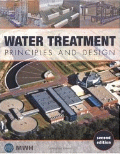 MWH
Water Treatment: Principles and Design
The one-stop resource for all aspects of water treatment engineering-from theory to practice.
Completely revised and updated to address current practices and technologies, Water Treatment: Principles and Design, Second Edition provides unique coverage of both the principles and theory of water treatment, as well as the practical considerations of plant design and distribution.
Written by the world's leading water engineering firm, Water Treatment: Principles and Design, Second Edition presents the breadth of water treatment engineering-from the theory and principles of water chemistry and microbiology to in-depth discussions of revolutionary treatment processes to concise tips for plant and network design. Material has been extensively updated and revised in response to regulatory requirements and growing public awareness, particularly in the areas of disinfection, membrane filtration, disposal of treatment plant residuals, and basic microbiology with an emphasis on human pathogens and diseases.
Wiley; 2 edition; 2005
---
---
---
---
Information about this site:
To include your website to the Internetchemistry directory, please use our registration form or send us an eMail.
The author- or copyrights of the listed Internet pages are held by the respective authors or site operators, who are also responsible for the content of the presentations.
Entries: 42
Last update 16.11.2016
Keywords: Water treatment, systems, chemicals, companies, suppliers, products
---
Citation: http://www.internetchemistry.com/market/water-treatment.htm
---
© 1996 - 2016 Internetchemistry