---
UV Spectrometers
Suppliers and manufacturers of UV and UV/VIS spectrometers.
---
The UV spectroscopy (ultraviolet spectroscopy) is a physical technique of the optical spectroscopy that uses light in the visible (VIS), ultraviolet and near infrared ranges.
Directory of manufacturers and suppliers of uv spectrometer and equipment for the uv spectroscopy.
---
---
Content:
---
---
---
---
International manufacturer and supplier
---
Agilent
Spectrophotometer, Products for UV-visible Spectroscopy - [e]
Jasco, Inc.
Complete range of spectroscopy intrumentation with powerful Spectra Manager™ cross platform software control capability. Instrumentation includes: UV/Vis/NIR, Dissolution Testers, Fluorescence, FT-IR & FT-Raman, Dispersive Raman, Microscopy, Nanotechnology, Digital Polarimeters, - [e]
Merck KGaA
Solvents for UV/VIS Spectroscopy; UV/VIS Spectrophotometers; UV/VIS Standards - [d, e]
PerkinElmer, Inc.
Spectrophotometer - [e]
Sigma Aldrich
UV/Vis Reagents; UV/Vis Solvents; Chromoionophores; Derivatization Reagents; Supplies for UV/Vis Spectroscopy - [e]
Thermo Scientific
UV-Visible Spectrophotometers - [e]
---
---
Germany
---
Agilent Technologies
Komplettsysteme, bestehend aus PC mit Betriebssystem, Applikationssoftware und Drucker. Für spezielle Applikationen können die Systeme mit zusätzlicher Software und einer Vielzahl an Zubehör ausgestattet werden, ebenfalls sind entsprechende Verbrauchsmaterialien für einen erfolgreichen Betrieb verfügbar - [d]
Dr. Gröbel UV-Elektronik GmbH Ettlingen
Spektrometer und Farbmessgeräte - [d, e]
GetSpec
... bietet Spektrometer sowie verschiedenes Zubehör wie z.B. Glasfasern, Lichtquellen und Ulbrichtkugeln zur Messung chemischer und biologischer Parameter - [d, e, f, ru]
Laser 2000
Hochwertige Kompaktspektrometer mit einer exzellenten Streulichtunterdrückung sowie scannende Monochromatoren mit Brennweiten von bis zu 750 mm - [d, e]
Maassen GmbH
UV-Vis Filtersets, handheld color spectrometer, ... - [d, e]
Shimadzu
Das UV-Vis Spektrophotometer UVmini-1240 ist ein kompaktes low -cost System mit einem Messbereich von 190 - 1100 nm und einer spektralen Bandbreite von 5 nm - [d, e]
tec5 AG Technology for Spectroscopy
Spectral Sensors, Spectrometer Systems, OEM Electronics for diode array spectroscopy, UV-VIS-NIR - [d, e]
Zeiss
On-line, At-line und In-line Systeme für die Messung von Farbe, Konzentration, Feucht und Schichtdicke - [d, e]
---
---
United States of America, USA
---
Cosa Instrument, Inc.
UV-Vis Spectrophotometer - [e]
S. I. Photonics, Inc.
UV/Vis Spectroscopy Products and Accessories - [e]
---
---
United Kingdom
---
Biochrom
… manufacturers of UV spectrometers and amino acid analyzers - [e]
NorthStar Scientific
... offers and supports a complete range of UV/VIS spectrophotometer applications. These models cover the complete range of technologies in UV-VIS Spectroscopy from low cost single beam models through to high performance double beam units suitable for fast kinetic measurements over the complete UV/VIS range - [e]
---
---
Switzerland
---
FlowSpek
A complete range of spectrophotometers for UV/VIS applications - [d, e, f]
---
---
Netherlands
---
Avantes
Solutions in spectroscopy - [e]
---
---
Asia
---
Scinco
UV-Vis Spectrophotometer - [e]
---
---
---
Related Books and Scientific Literature: UV Spectrometers
---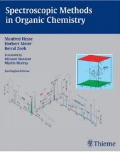 Manfred Hesse, Herbert Meier, Bernd Zeeh, and Richard Dunmur
Spectroscopic Methods in Organic Chemistry
Spectroscopic Methods in Organic Chemistry covers all aspects of modern spectroscopic methodology. It provides the necessary equipment for the application of spectroscopic methods in organic chemistry, as required as part of chemistry courses in all universities. The following methods are explained and examples given: UV/Vis Spectroscopy, derivative Spectroscopy, chirooptical methods CD and ORD, aggregated molecules, charge transfer complexes, conjugated oligomers Infrared (IR) and Raman Spectroscopy, Fourier transform IR spectroscopy, and GC/IR combination methods and more.
The layout and many tables help to introduce the reader to spectroscopy. The extensive and thorough approach makes the text the first choice both as a companion for the professional chemists and as a refresher course in practical spectroscopy.
Thieme; 2014
---
---
---
---
Information about this site:
To include your website to the Internetchemistry directory, please use our registration form or send us an eMail.
The author- or copyrights of the listed Internet pages are held by the respective authors or site operators, who are also responsible for the content of the presentations.
Entries: 21
Last update 16.11.2016
Keywords: UV spectrometers, UV/VIS, manufacturers, suppliers, products
---
Citation: http://www.internetchemistry.com/market/uv-spectrometer.htm
---
© 1996 - 2016 Internetchemistry