---
Rare Earth Metals
Manufacturers and suppliers of rare earth elements and compounds.
---
Rare earth metals are the collection of seventeen chemical elements in the periodic table, namely scandium, yttrium, and the fifteen lanthanoids.
List of manufacturers and suppliers of rare earth metals and compounds for the use in industry, laboratories and research.
---
---
Content:
---
---
---
---
Germany
---
Rare Element Resources Ltd.
… is a publicly traded company having 100% interest in the Bear Lodge property, which contains one of the largest disseminated rare-earth deposits in North America - [d, e]
Remy Gruppe, Auer-Remy
Seltenerd-Verbindungen (Metalle, Oxide, Salze) - [d, e, es]
Tradium
Lieferung von Metallen bis hin zu höchsten Reinheitsstufen sowie bei Halbzeugen, Legierungen, Granulaten und Pulvern - [d, e]
---
---
United States of America, USA
---
Aptech Services LLC
... supplies quality Rare Earth, Silica Gel, and Diagnostic Plastic products - [e]
Molycorp, Inc.
... is a US mining and technology company that produces and markets molybdenum and rare earth products - [e]
---
---
United Kingdom
---
Less Common Metals Ltd.
Now: Great Western Minerals Group - [e]
---
---
Australia
---
Greenland Minerals and Energy
… is a mineral exploration and development company, focused on unlocking the mineral riches of Greenland, one of the world's last natural resource frontiers - [e]
---
---
Austria
---
Treibacher Industrie AG
Selenerdmetalle, Seltenerdoxide und weitere Verbindungen aus der Gruppe der Seltenen Erde - [d]
---
---
Canada
---
Avalon Rare Metals
… is a Canadian mineral exploration and development company with a primary focus on the rare metals and minerals - [d, e, f]
Great Western Minerals Group Ltd.
… a mineral exploration and development company with a Rare Earth Element (REE) focus - [e]
HEFA Rare Earth
... brings you the opportunity to purchase rare earths directly from one of the world's largest and most experienced producers - [e]
NEO Material Technologies Inc.
… is a leading producer, processor and developer of neodymium-iron-boron magnetic powders, rare earths and zirconium-based engineered materials and applications - [e]
Tasman Metals Ltd.
… is a Canadian mineral exploration and development company focused on Strategic Metals in the European region - [e]
---
---
China
---
Baotou National Rare Earth
... is the largest rare earth industrial base in China - [e, cn]
Cathay Advanced Materials Limited
... is recognized for its unique capabilities in the fabrication and supply of sputtering target (Metal, Oxide, Alloy, Boride, Carbide, Nitride, Fluoride, Silicide, Sulfide), high purity Rare Earth and Lanthanum Hexaboride (LaB6) to customers in industries, materials dealers, university and research institutes at competitive price - [e]
Metall Rare Earth Limited
... manufactures and supplies a full range of Rare Earth oxides, metals, compounds and their specialties around the world - [e]
---
---
Japan
---
Hitachi Metals
… for magnetic appliances - [e, jp]
---
---
---
Related Books and Scientific Literature: Rare Earth Metals
---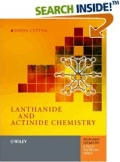 Simon Cotton
Lanthanide and Actinide Chemistry
This book is the only introduction into the exciting chemistry of Lanthanides and Actinides. The book is based on a number of courses on "f elements". The author has a long experience in teaching this field of chemistry. Lanthanides have become very common elements in research and technology applications; this book offers the basic knowledge. The book offers insights into a vast range of applications, from lasers to synthesis. "The Inorganic Chemistry: A Textbook" series reflects the pivotal role of modern inorganic and physical chemistry in a whole range of emerging areas, such as materials chemistry, green chemistry and bioinorganic chemistry, as well as providing a solid grounding in established areas such as solid state chemistry, coordination chemistry, main group chemistry and physical inorganic chemistry. "Lanthanide and Actinide Chemistry" is a one volume account of the Lanthanides (including scandium and yttrium), the Actinides and the Transactinide elements, intended as an introductory treatment for undergraduate and postgraduate students. The principal features of these elements are set out in detail, enabling clear comparison and contrast with the Transition Elements and Main Group metals. The book covers: the extraction of the elements from their ores and their purification, as well as the synthesis of the man made elements; the properties of the elements and principal binary compounds; detailed accounts of their coordination chemistry and organometallic chemistry, from both preparative and structural viewpoints, with a clear explanation of the factors responsible for the adoption of particular coordination numbers; spectroscopy and magnetism, especially for the lanthanides, with case studies and accounts of applications in areas like magnetic resonance imaging, lasers and luminescence; and, nuclear separations and problems in waste disposal for the radioactive elements, particularly in the context of plutonium. Latest developments are covered in areas like the synthesis of the latest man made elements, whilst there is a whole chapter on the application of lanthanide compounds in synthetic organic chemistry. End of chapter questions suitable for tutorial discussions are provided, whilst there is a very comprehensive bibliography providing ready access to further reading on all topics.
Wiley-VCH; 2006
---
---
---
---
Information about this site:
To include your website to the Internetchemistry directory, please use our registration form or send us an eMail.
The author- or copyrights of the listed Internet pages are held by the respective authors or site operators, who are also responsible for the content of the presentations.
Entries: 17
Last update 16.11.2016
Keywords: Rare, Earth, Metals, Elements, compounds, manufacturers, suppliers
---
Citation: http://www.internetchemistry.com/market/rare-earth-metals.htm
---
© 1996 - 2016 Internetchemistry