---
Materials testing
Supplier of material testing and manufacturer of test equipment.
---
Materials testing is the application of chemical and physical methods to determine the state or function of materials.
The following list contains manufacturers and / or suppliers of test systems and test equipment and services in the field of material testing. Contact persons for chemical tests with regard to materal tests are the chemical analysis laboratories.
---
---
Content:
---
---
---
---
International manufacturer and supplier
---
Bodycote Testing
... operates more than 100 laboratories worldwide - [e]
Fischer
... is recognized as a leader in the field of coating thickness measurement and material testing instruments - [...]
---
---
Germany
---
BMP
Labor für medizinische Materialprüfung GmbH - [d, e]
cbm Centrum Baustoffe und Materialprüfung der TU München
... ist eines der bedeutendsten Forschungs- und Prüfinstitute für Baustoffe in Deutschland - [d, e]
DREIFELD Materialprüftechnik GmbH
Analysen für RoHS, REACH und Umweltschadstoffe - [d, e]
IFW Jena
Günter-Köhler-Institutes für Fügetechnik und Werkstoffprüfung GmbH - [d]
Institut für Materialprüfung und Werkstofftechnik Dr. Neubert GmbH
Werkstofftechnik & Materialprüfung, Korrosion und Korrosionsschutz & Verschleiss & Metallurgie & Giesserei- und Schweisstechnik - [d, e]
Instron
... bietet umfassende Lösungen für die Materialprüfung sowie Service und Kalibrierung für Prüfmaschinen an - [d, e]
Lloyd Instruments, Ametek
Material-Prüfmaschinen, Zubehör, Software - [d]
Orga Lab GmbH
Umwelt- und Verbraucherschutz, Material- und Produktprüfung - [d, e, it]
Prüf- und Forschungsinstitut Pirmasens e.V.
... ist ein international anerkanntes Dienstleistungs- und Forschungszentrum mit den Schwerpunkten Prüftechnik, F&E und Zertifizierung - [d, e]
Schmidt + Clemens Gruppe
Konstruktions- und Werkstoffberatung und ein umfassender Service als Produkt begleitende Leistung prägen die Kompetenz der Schmidt+Clemens Gruppe als führender Edelstahl-Spezialist, der weltweit präsent ist - [d, e]
Schmitt Werkstoffprüfung
... ist ein ein akkreditiertes mittelständiges Familienunternehmen in der zerstörungsfreien Materialprüfung - [d]
Schmitz-Werkstofftechnik
Schadensfallanalyse; Metallographie; Werkstoffprüfung; Oberflächenanalytik; Gießereitechnische Beratung - [d]
Sulzer Innotec
Erfahrene und kompetente Spezialisten für die Lösung von Problemen und Fragen in den Bereichen Schadensanalyse und Charakterisierung von Werkstoffen, zerstörungsfreie und zerstörende Materialprüfung (inkl. Schulung), Strukturmechanik, Maschinendynamik und Akustik, sowie Kalibrierung von Längenmessmitteln und Messtechnik - [d, e]
Technomix AG
Die Technomix AG im fränkischen Pommersfelden ist Spezialist im Bereich Materialprüfung, zerstörungsfreie Werkstoffprüfung, Sichtprüfverfahren und manuelle und automatische Verpackung von elektronischen Teilen - [d]
Werkstoff Service GmbH
W.S. Werkstoff Service ist spezialisiert auf Dienstleistungen in den Bereichen Werkstoffe, zerstörende Werkstoffprüfung und zerstörungsfreie Materialprüfung - u.a. für die metallverarbeitende Industrie, den Maschinen- und Anlagenbau sowie die Chemie- und Energietechnik.
Das Unternehmen betreibt ein akkreditiertes Prüflabor, eine akkreditierte Inspektionsstelle und eine zertifizierte Ausbildungsstätte. Wir bieten u.a. Schadensanalysen, Beratungen, gutachterliche Tätigkeit und Weiterbildungen - [d, e]
Zwick GmbH & Co. KG
... gehört zu den international führenden Anbietern im Bereich der Material- und Werkstoffprüfung - [d, e]
---
---
United States of America, USA
---
ADMET - Materials Testing Systems
... has been providing universal materials testing equipment and digital control systems for a wide range of industries - [e]
Advanced Plastic and Material Testing, Inc.
Metallurgical and failure analysis; plastic and rubber analysis - [e]
American Society for Nondestructive Testing, Inc.
ASNT helps create a safer world by serving the NDT professions and promoting NDT technologies, through publishing, certification, research and conferencing - [e]
Laboratory Testing Inc.
A leader in metal and alloy testing, NIST-traceable calibration, test specimen machining and failure analysis services - [e]
Materials Testing & Inspection, Inc.
... provides a full range of environmental, geotechnical engineering, and materials inspection and testing services - [e]
---
---
United Kingdom
---
CAPCIS
Europe's leading Materials Consultancy and Specialist Testing Group, providing a diverse range of Integrity and Asset Management Services to the Oil and Gas, Utility, Infrastructure, Transport and Legal / Insurance sectors - [e]
Micro Materials Limited
Home of nanoindentation in the real world - [e]
---
---
Switzerland
---
EMPA
... is a materials science and technology research institution - [d, e]
Suisse Technology Partners AG
Ihre Schadensfälle werden von erfahrenen Spezialisten bearbeitet. Schwerpunkt sind metallische Proben, für welche wir folgende Dienstleistungen anbieten: REM-EDX, XPS, Computertomographie, Gefügeanalysen, verschiedene Korrosionstests, mechanische Prüfungen, Schweisslabor, Beratungen usw - [d, e]
---
---
Canada
---
Cambridge Materials Testing Limited
CMTL is an independent testing laboratory in Cambridge Ontario - [e]
Sci-Lab Materials Testing Inc.
... is a dynamic and technically diverse independent testing laboratory that provides a broad spectrum of testing services for all facets of industry - [e]
---
---
China
---
De Hua Materials Testing Co. Ltd.
... is the sole agent of the latest state-of-art scientific instruments and equipment of many reputable international brands, particularly in non-destructive testing and metallography. Hongkong - [e]
---
---
---
Related Books and Scientific Literature: Materials testing
---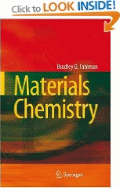 Bradley D. Fahlman
Materials Chemistry is the first textbook that describes the structure vs. property relationship of all major classes of materials. This book will be suitable for both graduate and advanced undergraduate students, as well as industrial scientists wishing to learn more about particular classes of materials. Many illustrations and detailed bibliographies are provided throughout, as well as special sections that describe emerging applications and pose thought-provoking questions - all designed to foster student-instructor interactions. Laboratory modules that offer a "hands-on" approach for the study of materials are also provided.
Springer; 2008
---
---
---
---
Information about this site:
To include your website to the Internetchemistry directory, please use our registration form or send us an eMail.
The author- or copyrights of the listed Internet pages are held by the respective authors or site operators, who are also responsible for the content of the presentations.
Entries: 30
Last update 16.11.2016
Keywords: Chemical, physical, materials, testing, services, companies, products
---
Citation: http://www.internetchemistry.com/market/materials-testing.htm
---
© 1996 - 2016 Internetchemistry