---
Gas Detectors
Manufacturers and suppliers of gas detectors, gas meters and gas sensors.
---
Gas sensors are technical instruments for the quantitative and qualitative determination and measurement of gases. They are used in gas detectors and gas meters, of which there are a variety of devices for various applications and gas types on the market.
The following list contains manufacturers of gas detectors, gas sensors and gas measuring devices for laboratories, research and industry. Special chemical gas detectors are also available through the laboratory trade. For detectors for gas chromatography, see gas chromatographs.
---
---
Content
---
---
---
---
International manufacturer and supplier
---
Draeger
Gasmesstechnik - [d, e]
Industrial Scientific Corporation
The gas detection people - [d, e, ...]
Michell Instruments
... designs and manufactures a wide range of instrumentation to measure dew point, relative humidity, and moisture content in gases and hydrocarbon liquids. All trace moisture analyzers, dew-point meters, and humidity instruments are calibrated traceable to international standards - [e]
---
---
Germany
---
Ados
Mittelständisches Unternehmen für Innovation in der Gasanalyse, der Gaswarnung und im Umweltschutz - [d, e, f]
Ansyco
Gasmessgeräte auf FTIR Basis, Gasanalyse von Gasproben mit höherem Wasserdampfgehalt - [d]
AWITE Bioenergie GmbH
Individuelle Prozessanalyse-Systeme für den Einsatz in industriellen und landwirtschaftlichen Biogasanlagen, Kläranlagen, Blockheizkraftwerken, Entschwefelungsanlagen, Abwasserreinigungsanlagen, Trockenfermentationssystemen, zur Überwachung der Biogaseinspeisung ins Erdgasnetz, für Brennstoffzellenanwendungen, Forschung und Entwicklung an Hochschulen - [d, e]
Bernt Messtechnik GmbH
... bietet kundenspezifische Systemlösungen und Engineering in den Bereichen der industriellen Gaswarn- und Gasanalysentechnik an - [d]
Bieler + Lang GmbH Gasmess- und Warnsysteme
... ermöglicht es Personen, Umwelt, technische Anlagen und Sachwerte optimal vor folgenschweren Schäden durch rechtzeitige und sichere Alarmierung vor Gasunfällen und Explosionen zu schützen - [d, e]
Compur Monitors GmbH & Co. KG
... ist einer der führenden Hersteller von Gasmesstechnik - [d, e, f, ...]
Dittrich-Electronic
Gaswarnsysteme, Kompostsonden und Sauerstoffsonden - [d, e]
GfG Gesellschaft für Gerätebau mbH
GfG gehört zu den weltweit führenden Unternehmen der Gaswarn- und Gasmesstechnik - [d, e]
Leopold Siegrist GmbH
Mobile Gasmesstechnik - [d, e]
Scima
Gasanalysatoren für industrielle Prozesse - [d, e, f]
Sick Maihak GmbH
Produkte und Dienstleistungen für die Analysen- und Prozessmesstechnik - [d, e]
---
---
United States of America, USA
---
GDS Corp.
... provides a wide range of industrial fixed gas detection systems including toxic, oxygen and combustibles. Application areas include Petrochemical, Oil and Gas, Pulp and Paper, Semiconductor, and other industries requiring affordable gas detection solutions in even the most difficult and challenging environments - [e]
Sensidyne, Inc.
Manufacturer and distributor of gas detection equipment - [e]
Teledyne Technologies Incorporated
... is a world leader in the design and manufacture of analytical instrumentation for precision gas analysis - [e]
TSI Incorporated
... serves a global market by investigating, identifying and solving measurement problems - [e]
---
---
United Kingdom
---
Gas Alarm Systems Ltd.
... offers a wide variety of gas detection options in order to meet the needs of our customers - [e]
Geotechnical Instruments Ltd.
Manufacturers of intrinsically safe handheld/portable infrared gas analyzers and monitors used in civil engineering, medical, military, landfill, ... - [e]
Ion Science
... manufacturers and distributes a range of technologically advanced gas detectors, leak detectors and corrosion monitors, worldwide - [e]
---
---
Japan
---
Gastec Corporation
Direct reading detector tubes, instruments (including alarm meters) for detecting / measuring oxygen, carbon monoxide, hydrogen sulphide, as well as other toxic gases; ancillary equipment concerning gas measurement (sampling, correcting, etc.) - [e, jp]
---
---
---
Related Books and Scientific Literature: Gas Detectors
---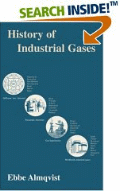 Ebbe Almqvist
This 450-page pastiche of well-researched and well-documented vignettes, anecdotes, thumbnail sketches, and priceless illustrations and drawings is, as advertised, a marvelous excursion into the history of industrial gases. Embedded between the end papers of what might at first seem only to interest a precious few specialists are the essence of stories on hydrogen, including lighter-than-air craft and ballooning; dry ice and refrigeration; acetylene and illumination; gaslight and limelight; noble gases and the quest for absolute zero; industrial helium, superconductivity, and superfluidity; cutting and welding; rocket fuels, buzz bombs, and space travel; cryogenics, cyngas, and LPG. On and on. An impressive scientific and engineering retrospective... References are properly annotated, accurately displayed, and well represented; illustrations are appropriate and often original; the engineering drawings are more than window dressing. Empedocles and Paracelsus would be pleased ...
Springer; 2002
---
---
---
---
---
About this site
The author- or copyrights of the listed Internet pages are held by the respective authors or site operators, who are also responsible for the content of the presentations.
To include your website to the Internetchemistry directory, please use our registration form or send us an eMail.
Entries: 22
Update: 16.11.2016
Keywords: Gas detectors, gas meters, gas sensors, manufacturers, suppliers, products
---
---
Permalink: http://www.internetchemistry.com/market/gas-detector.php
---
(C) 1996 - 2018 Internetchemistry
---