---
Chemical Reactors
Chemical reactors for laboratory, engineering and industry.
---
A chemical reactor is a device for containing and controlling chemical reactions in industrial plants.
In the following overview you will find manufacturers and suppliers of chemical reactors for various applications and from different materials. Some companies offer order processing of reaction equipment. Similar categories: bioreactors, chemical process engineering, microreactors, plant engineering.
---
---
Content:
---
---
---
---
International manufacturer and supplier
---
Buchi Glas Uster
Büchi pilot plants & reactor systems: from lab reactor scale to complete sets of chemical process units for chemical reactions and under vacuum / pressure - [d, e]
---
---
Germany
---
Amixon GmbH
Mischer, Mischanlage, Vakuumtrockner, Mischmaschine, Reaktoren, Trockner, Konusmischer, Einwellenmischer - [d, e]
AVA Huep GmbH u. Co. KG
Maschinentechnologie und Systemlösungen rund um die Kernkompetenz Mischen und Trocknen - [d, e, cn, pl, ru]
Büchi Glas Uster
Büchi Pilot Plants & Reaktor Systeme: Reaktor Systeme für Labor, Pilot, Produktion; Druckreaktoren in Borsilikat Glas, Stahl rostfrei, Hastelloy, Titan, Tantal, Zirkon; Hydrierungs-Gesamtlösung; Reaktoren, Nutsch Filter, Gaswäscher in Glas / Email, korrosionsbeständig, für die organische Synthese - [d, e]
Ehrfeld Mikrotechnik BTS GmbH
Produkte der Mikroverfahrenstechnik - [d, e]
Ekato RMT
Großrührwerke und Reaktoren - [d, e, es, cn]
Parr GmbH
Entwicklung, Herstellung und Verkauf von Kalorimetern, Reaktoren und Druckbehältern sowie Aufschluss- und Verbrennungsbomben und ähnlichen Produkten für den Laborbereich - [d, e, pl]
Purplan
... errichtet komplette Industrieanlagen zur Lagerung und Verarbeitung von brennbaren und wassergefährdenden Flüssigkeiten - [d, e, cn]
Reuther GmbH
Apparatebau allgemein (Druckbehälter, Wasserstoff – und andere Gas- und Ammoniakbehälter, Abscheider, Ab- und Adsorber, Kolonnen und Reaktoren) - [d, e, cn]
Richard Stihler GmbH
Apparatebau und Maschinenfabrik - [d, e]
Schrader Gruppe
Verfahrenstechnik, Apparatebau oder Rohrleitungsbau - [d, e]
Siebold GmbH
Reaktoren: gekühlt oder beheizt - [d]
---
---
United States of America, USA
---
De Dietrich Process Systems, Inc.
Reaction Technology - [e]
Fluitron, Inc.
... offers a wide variety of Laboratory & Pilot Plant REACTORS & SYSTEMS for almost any chemical reaction application - [e]
Kennedy Tank and Manufacturing Co., Inc.
Custom fabricated steel tanks and vessels, aboveground tanks, underground tanks, ASME code pressure vessels, columns and shell and tube heat exchangers in a variety of steel and alloy materials - [e]
Parr Instrument Company
Manufacture and sale of combustion bombs, calorimeters, chemical reactors, pressure vessels, and related equipment developed specifically for laboratory use - [e]
PDC Machines, Inc.
... is a world leader in the design, engineering, manufacture, installation, commissioning, service, and support of equipment for the chemical, petrochemical, pharmaceutical, and specialty gas industries - [e]
PKG Equipment Inc.
Jacketed reactors - [e]
Riggins Company
... has been fabricating and installing pressure vessels, heat exchangers, custom weldments and industrial piping systems - [e]
Ross Engineering, Inc.
Reactors, Tanks & Vessels - [e]
Val-Fab, Inc
... specializes in the fabrication of: ASME Pressure Vessels, Process Tanks, Heat Exchangers, Reactors, Evaporators, Storage Tanks, Military Components (Production & Individual), Specialty Weldments and Brackets - [e]
Walker Engineered Products
... focuses on providing the food, beverage, dairy, pharmaceutical, fine chemicals and personal care industries with a full range of high value, high-quality products built to meet and exceed our customers' most challenging applications - [e]
---
---
United Kingdom
---
Armfield Ltd.
... are world leaders in the design and manufacture of laboratory equipment for engineering education and miniature scale research and development machinery for the food processing, pharmaceutical and cosmetics industries - [e]
---
---
Switzerland
---
Büchi Glas Uster
From Lab Reactor scale to complete sets of Chemical Process Units for chemical reactions and under vacuum / pressure - [d, e]
---
---
Canada
---
Clemmer SteelCraft Technologeis Inc.
FCF designs and builds custom pressure vessels, process vessels, chemical reactors, heat exchangers, autoclaves, quick opening doors, storage tanks and steel fabrications - [e]
---
---
India
---
Amar Equipments Pvt. Ltd.
Pilot to Plant Scale Reactors - [e]
Swami vessels Private limited
... offers a wide range of equipment for distillation, rectification, crystallization, heating and various such applications for the chemical industry - [e]
Swamiraj Process Equipments Pvt. Ltd.
... is engaged in designing, manufacturing and exports of Process Equipments of all types of Chemical, Petrochemical, Pharmaceutical, Distillery, Brewery, Paint, Fertilizer, Explosive, Agro and Food process industries - [e]
---
---
---
Related Books and Scientific Literature: Chemical Reactors
---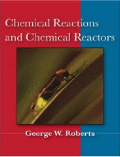 George W. Roberts
Chemical Reactions and Chemical Reactors
Focused on the undergraduate audience, Chemical Reaction Engineering provides students with complete coverage of the fundamentals, including in-depth coverage of chemical kinetics. By introducing heterogeneous chemistry early in the book, the text gives students the knowledge they need to solve real chemistry and industrial problems. An emphasis on problem-solving and numerical techniques ensures students learn and practice the skills they will need later on, whether for industry or graduate work.
Wiley; 2008
---
---
---
---
Information about this site:
To include your website to the Internetchemistry directory, please use our registration form or send us an eMail.
The author- or copyrights of the listed Internet pages are held by the respective authors or site operators, who are also responsible for the content of the presentations.
Entries: 28
Last update 16.11.2016
Keywords: Chemical, Reactors, industrial, chemistry, manufacturers, suppliers
---
Citation: http://www.internetchemistry.com/market/chemical-reactors.htm
---
© 1996 - 2016 Internetchemistry