---
AA Spectrometers
Manufacturers and suppliers of atomic absorption spectrometers.
---
The atomic absorption spectroscopy (AA spectroscopy) is a technique for the determining of the concentration of a particular chemical element in a sample.
In the following list you will find international manufacturers and suppliers of atomic absorption spectrometers as well as the associated software and accessories. Further reference sources are listed in the category spectrometers.
---
---
Content:
---
---
---
---
International manufacturer and supplier
---
Agilent Technologies
Microwave Plasma Atomic Emission spectrometer
Horiba
Absorption spectrophotometers, atomic emission spectrometers
Perkin Elmer
... has been the undisputed global leader in AA spectroscopy for over 40 years
---
---
Germany
---
Analytik Jena AG
Systemanbieter für analytische, bioanalytische und optische Lösungen: Verschiedene Atomabsorptionsspektrometer sowie Zubehör
Horiba Gruppe
Verschiedene Absorptionsspektrometer, Zubehör
---
---
United States of America, USA
---
Aurora Biomed
TRACE Atomic Absorption Spectrometer
Buck Scientific
... supports a wide variety of customers in the industrial, environmental, quality control, mining, plating, and educational markets
---
---
Australia
---
GBC Scientific Equipment Pty Ltd.
GBC offers a wide range of world class instrumentation, including Atomic Absorption Spectroscopy (AAS), Inductively Coupled Plasma Optical Emission Spectroscopy (ICP-OES), Inductively Coupled Plasma Orthogonal Acceleration Time of Flight Mass Spectroscopy (ICP-TOFMS, ICP-MS, Mass Spectrometry), UV-Visible Spectrometry (UV-Vis), High Performance Liquid Chromatography (HPLC), Rheometry (MFR, Micro Fourier Rheometry) and X-Ray Diffraction (XRD), Materials Analyzer
---
---
---
Related Books and Scientific Literature: AA Spectrometers
---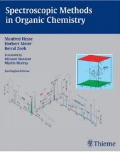 Manfred Hesse, Herbert Meier, Bernd Zeeh, and Richard Dunmur
Spectroscopic Methods in Organic Chemistry
Spectroscopic Methods in Organic Chemistry covers all aspects of modern spectroscopic methodology. It provides the necessary equipment for the application of spectroscopic methods in organic chemistry, as required as part of chemistry courses in all universities. The following methods are explained and examples given: UV/Vis Spectroscopy, derivative Spectroscopy, chirooptical methods CD and ORD, aggregated molecules, charge transfer complexes, conjugated oligomers Infrared (IR) and Raman Spectroscopy, Fourier transform IR spectroscopy, and GC/IR combination methods and more.
The layout and many tables help to introduce the reader to spectroscopy. The extensive and thorough approach makes the text the first choice both as a companion for the professional chemists and as a refresher course in practical spectroscopy.
Thieme; 2014
---
---
---
---
Information about this site:
To include your website to the Internetchemistry directory, please use our registration form or send us an eMail.
The author- or copyrights of the listed Internet pages are held by the respective authors or site operators, who are also responsible for the content of the presentations.
Entries: 8
Last update 16.11.2016
Keywords: Atomic Absorption Spectrometers, AA Spectrometers, manufacturers, suppliers, products, equipment
---
Citation: http://www.internetchemistry.com/market/atomic-absorption-spectrometers.htm
---
© 1996 - 2016 Internetchemistry