---
Analytical instruments
Suppliers and manufacturers of istruments for chemical analysis.
---
The term "analytical instruments" is used to summarize a wide range of measuring instruments and apparatuses of different construction, which are used for chemical analysis in the widest sense, but also for quality control, conformity testing, environmental measurement, environmental and food control, etc.
The following overview lists manufacturers and suppliers of systems and instruments for analytical chemistry in general. The following overview lists manufacturers and suppliers of systems and instruments for analytical chemistry in general. You can find special devices in the corresponding categories for instrumental analysis on our chemistry and laboratory marketplace.
---
---
Content:
---
---
---
---
International manufacturer and supplier
---
Agilent
Chemical Analysis Solutions - [e]
EDAX
... is the global leader in Energy Dispersive X-Ray Microanalysis, Electron Backscatter Diffraction and Micro X-Ray Fluorescence systems - [e]
Mettler-Toledo International
Laboratory Analytical Instruments - [e]
Varian
Scientific Instruments and Vacuum Products - [e]
---
---
Germany
---
ADInstruments
Maker of the world renowned PowerLab® system and Chart™ Software, provides complete data acquisition and analysis solutions for life science research and education - [e]
Analyticon Instruments Corporation
Analytical Instruments, Laboratory Meters, Water Quality Measuring Instruments, and Process Monitors for Industrial, Environmental, Water, and Wastewater Monitoring - [e]
Aokin AG
... entwickelt und vertreibt innovative analytische Systeme, welche die Messung von Reaktionsgeschwindigkeiten zur Grundlage haben - [d]
C3-Analysentechnik GmbH
Die C3-Analysentechnik GmbH ist Anbieter von analytischen Meßsystemen, Laborgeräten und Teilkomponenten aus den Bereichen Kalorimetrie, FTIR, Elektrochemie, Probenvorbereitung und optische Bauteile - [d]
Dichrom GmbH
Support und Vertrieb ausgewählter Hochleistungsprodukte für die moderne Analytik mit Schwerpunkten Flüssigchromatografie, LC-MS, Proteomics, Biomarker und Bioanalytik - [d]
Elementar Analysensysteme GmbH
Elementar ist der weltweit führende Hersteller von Analysegeräten für nichtmetallische Elemente wie Kohlenstoff, Stickstoff, Wasserstoff, Sauerstoff, Schwefel oder Chlor in allen organischen und der Mehrzahl der anorganischen Substanzen - [d, e]
HEKAtech
Hersteller und Anbieter von diversen Produkten zur Elementaranalytik, Elementaranalyse und TOC - Analytik - [d, e]
Leopold Siegrist GmbH
EFAS Fiberoptischer Sensor für die Detektion fon CKW/KW in Wasser. Tragbar oder stationäres Messsystem für die kontinuierliche Vor-Ort Analytik - [d, e, f]
PCE Deutschland GmbH
… liefert Messtechnik, wie etwa Handmessgeräte. Einbaumessgeräte und Hilfsmittel für die Messung, Analyse und Untersuchung. - [d]
Pier-Electronic GmbH entwickelt und produziert lichtelektronische Meßgeräte
Seit 40 Jahren entwickeln und fertigen wir lichtelektronische Meßgeräte für den Wellenlängenbereich von 200 - 4700 nm. Die Geräte werden sowohl für Prozess- als auch für Laboranwendungen eingesetzt - [d]
prosys° GmbH
Abwasser, Energie, Anlagenbau, Projektmanagement und analytische Instrumente - [d]
Testo AG
... ist ein weltweit führender Hersteller tragbarer, elektronischer sowie stationärer Messgeräte für Klima- und Kältetechnik (z.B. Infrarotthermometer), Heizung und Installation, Emissionskontrolle, industrielle Anwendungen und die Lebensmittelindustrie - [d]
---
---
United States of America, USA
---
Inficon
... provides vital chemical identification systems for immediate, on-site detection and analysis of volatile organic compounds (VOC), such as toxic industrial chemicals and chemical warfare agents, in air, water, and soil - [e]
Leeman Labs
At Teledyne Leeman Labs atomic spectroscopy is our focus and we are deeply committed to providing laboratories with technically superior products and services to meet their elemental analysis needs - [e]
Topac Inc.
Instrumentation for physical and chemical analysis in research, development and quality control and education - [e]
---
---
United Kingdom
---
PCE Instruments UK Ltd.
Measuring Instruments - [e]
---
---
Switzerland
---
Gel Instrumente AG
Die Firma Gel Instrumente AG aus der Schweiz liefert Laborgeräte für die Gelzeitmessung, B-Zeit-Bestimmung und Aushärteverlauf von Epoxidharzen - [d, e]
---
---
Canada
---
Aurora Biomed
A manufacturer of analytical instruments for use in the elemental analysis sector - [e]
---
---
Chile
---
PCE Instruments Chile S.A.
- - [es]
---
---
France
---
PCE Instruments France EURL
Appareils de mesure, régulation et contrôle et balances pour l'industrie, le commerce et la recherche - [f]
---
---
Italy
---
PCE Italia s.r.l.
- - [it]
---
---
Japan
---
JAIMA
Japan Analytical Instruments Manufacturers Association - [e]
---
---
Netherlands
---
PCE Benelux
- - [nl]
---
---
Spain
---
PCE Ibérica S.L.
- - [es]
---
---
Turkey
---
PCE Teknik Cihazlar Ltd. Sti.
- - [tr]
---
---
---
Related Books and Scientific Literature: Analytical instruments
---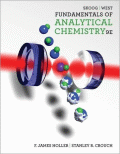 Douglas A. Skoog, Donald M. West, F. James Holler, Stanley R. Crouch
Fundamentals of Analytical Chemistry
Known for its readability and systematic, rigorous approach, this fully updated Ninth Edition of Fundamentals of Analytical Chemistry offers extensive coverage of the principles and practices of analytic chemistry and consistently shows students its applied nature. The book's award-winning authors begin each chapter with a story and photo of how analytic chemistry is applied in industry, medicine, and all the sciences.
Brooks Cole; 2013
---
Bryan M. Ham, Aihui MaHam
A comprehensive study of analytical chemistry providing the basics of analytical chemistry and introductions to the laboratory Covers the basics of a chemistry lab including lab safety, glassware, and common instrumentation Covers fundamentals of analytical techniques such as wet chemistry, instrumental analyses, spectroscopy, chromatography, FTIR, NMR, XRF, XRD, HPLC, GC-MS, Capillary Electrophoresis, and proteomics.
Wiley; 2015
---
---
---
---
Information about this site:
To include your website to the Internetchemistry directory, please use our registration form or send us an eMail.
The author- or copyrights of the listed Internet pages are held by the respective authors or site operators, who are also responsible for the content of the presentations.
Entries: 29
Last update 16.11.2016
Keywords: Analytical, chemistry, instruments, manufacturers, suppliers, products
---
Citation: http://www.internetchemistry.com/market/analytical_instruments.htm
---
© 1996 - 2016 Internetchemistry