---
Organic Synthesis
Organic Synthesis and Techniques.
---
The organic synthesis is the branch of organic chemistry, which deals with the production of organic chemical compounds. A synthesis is not only the actual preparation guide for the substance to be synthesized, often it requires knowledge of reaction mechanisms, side reactions, practical laboratory methods, stereochemistry, synthesis planning, strategy, tactics, cleaning methods, separation methods, etc.
List of online available information on organic synthesis and methods.
---
---
Content:
---
---
---
---
Tools for the practical work in labs; application notes
---
The Organic Chem Lab Survival Manual
A Student's Guide to Techniques by James W. Zubrick - Format: PDF
---
---
Data and Databases
---
Organic Synthesis
… has provided the chemistry community with detailed, reliable, and carefully checked procedures for the synthesis of organic compounds
Organic Synthesis Search
Browse synthetic transformations by the desired bond formation. Organic Chemistry Portal
WebReactions
WebReactions introduces a new concept for the retrieval of reactions from a large database in which reactions are indexed instead by the bond changes which occur
---
---
Books Online, eBooks
---
Organic Synthesis
The science behind the art. By William A. Smit et al. Google Books
Organic Synthesis
Strategy and control. By Paul Wyatt, Stuart G. Warren. Google Books
Organic Synthesis
Concepts and methods. eBook by Jürgen-Hinrich Fuhrhop, Guangtao Li. Google Books
---
---
Journals
---
Current Organic Synthesis
COS publishes in-depth reviews on all areas of synthetic organic chemistry i.e. asymmetric synthesis, organometallic chemistry, novel synthetic approaches to complex organic molecules, carbohydrates, polymers, protein chemistry, DNA chemistry, supramolecular chemistry, molecular recognition and new synthetic methods in organic chemistry. Bentham Science Publishers
Methods in Organic Synthesis
MOS is an alerting service covering the most important current developments in organic synthesis. It is designed with the synthetic organic chemist in mind, providing informative reaction schemes and covering new reactions and new methods. Royal Society of Chemistry
Organic Preparations and Procedures
OPPI is a bimonthly publication aimed at the dissemination of information of particular importance to organic chemists engaged in synthesis. It is devoted to preparative organic chemistry, organometallic compounds, and procedures generally related to synthesis. Taylor and Francis
---
---
---
Related Books and Scientific Literature: Organic Synthesis
---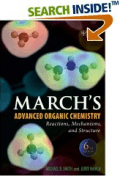 Michael B. Smith, Jerry March
March's Advanced Organic Chemistry: Reactions, Mechanisms, and Structure
The Sixth Edition of a classic in organic chemistry continues its tradition of excellence Now in its sixth edition, March's Advanced Organic Chemistry remains the gold standard in organic chemistry. Throughout its six editions, students and chemists from around the world have relied on it as an essential resource for planning and executing synthetic reactions.
Wiley-Interscience; 2007
---
---
---
---
Information about this site:
To include your website to the Internetchemistry directory, please use our registration form or send us an eMail.
The author- or copyrights of the listed Internet pages are held by the respective authors or site operators, who are also responsible for the content of the presentations.
Entries: 10
Last update 30.04.2016
Keywords: Organic, synthesis, basics, techniques
---
Citation: http://www.internetchemistry.com/chemistry/organic-synthesis.htm
---
© 1996 - 2016 Internetchemistry