---
Berkelium
Chemistry and physics of the chemical element berkelium.
---
Berkelium - chemical symbol Bk, atomic number 97 - is an artifical produced, strong radioactive chemical element and the eighth member of the actinide series of elements.
Online available information resources about the chemistry and physics of berkelium and the berkelium compounds.
---
---
Content
---
---
---
---
Information and data about the element
---
Berkelium, Bk
Chemical and physical properties; comprehensive data. Environmental Chemistry, USA
Berkelium, Bk
Chemical and physical properties. Chemsoc, UK
Berkelium, Bk
Chemical and physical properties of berkelium. Webelements, USA
---
---
Atom, Orbitals, Radiochemistry
---
Atomic Data for Berkelium, Bk
The handbook is designed to provide a selection of the most important and frequently used atomic spectroscopic data in an easily accessible format. Basic Atomic Spectroscopic Data. NIST, USA
Isotopes of Berkelium
All known isotopes of the chemical element berkelium. Jefferson Lab
---
---
Physics and physical data
---
X-ray properties of Berkelium
Periodic table of X-ray properties. CSRRI
---
---
Special Information
---
Actinides and the Sources of Cosmic Rays
Scientific article. MPG - Format: PDF
---
---
Group Elements - Information
---
Actinides
Uncovering the Secrets of Actinides: illustrated article, covering the uses of these elements in nuclear chemistry, and related research initiatives
Actinides(III)-Lanthanides Group Separation from Nitric Acid
In this paper, extractants are presented which made it possible to separate actinides(III) and lanthanides from strong nitric acid solutions - Format: PDF
H-bonded transuranium complexes
Model description of the H-bonded transuranium complexes - Format: PDF
Lanthanides and Actinides
General Information. Radiochemistry Society, USA
Lanthanides and Actinides
Lecture notes in Inorganic Chemistry. S. J. Heyes, Oxford, UK
Lanthanides and Actinides
Some general points important for quantum chemical studies of systems containing lanthanides and actinides, then briefly summarizes the quantum chemical methods applied so far to study f element systems, and finally focusses on a few characteristic examples. Wiley - Format: PDF
Metallofullerenes Encapsulating Actinides
Study of Metallofullerenes Encapsulating Actinides - Format: PDF
The Chemical Interactions of Actinides in the Environment
PDF article, FAS (USA) [e]. FAS - Format: PDF
Transuranium Elements
A short introduction
---
---
Synthesis, production
---
Actinide Resin
Group actinide separations/gross alpha measurements - technical info. Eichrom
Extraction Chromatography of actinides and Selected Fission Products
Principles and Achievement of Selectivity. Eichrom
---
---
Journals
---
Journal of Nuclear Materials
... publishes high quality papers in materials research relevant to nuclear fission and fusion reactors and high power accelerator technologies, and in closely related aspects of materials science and engineering. Elsevier
Journal of Radioanalytical and Nuclear Chemistry
An International Journal Dealing with All Aspects and Applications of Nuclear Chemistry. Springer
Radiation Physics and Chemistry
... is a multidisciplinary journal that provides a medium for publication of substantial and original papers, reviews, and technical notes. Elsevier
---
---
Research facilities and departments
---
Institute for Transuranium Elements
The mission of ITU is to provide the scientific foundation for the protection of the European citizen against risks associated with the handling and storage of highly radioactive material
---
---
Organisations
---
Nuclear Energy Agency
... is a specialised agency within the Organisation for Economic Co-operation and Development (OECD), an intergovernmental organisation of industrialised countries, based in Paris, France
---
---
---
Related Books and Scientific Literature: Berkelium
---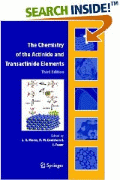 L.R. Morss, Norman M. Edelstein, Jean Fuger, Joseph J. Katz
The Chemistry of the Actinide and Transactinide Elements
The Chemistry of the Actinide and Transactinide Elements is the contemporary and definitive exposition of chemical properties of all of the actinide elements, especially of the technologically important elements uranium and plutonium, as well as the transactinide elements. In addition to the comprehensive treatment of the chemical properties of each element, ions and compounds from atomic number 89 (actinium) through 109 (meitnerium), the multi-volume work has specialized and authoritative chapters on electronic theory, optical and laser fluorescence spectroscopy, X-ray absorption spectroscopy, organoactinide chemistry, thermodynamics, magnetic properties, the metals, coordination chemistry, separations, trace analysis.
The fourth edition of "The Chemistry of the Actinide and Transactinide Elements" comprises all chapters in volumes 1 through 5 of the third edition (published in 2006) plus a new volume 6. To remain consistent with the plan of the first edition, " … to provide a comprehensive and uniform treatment of the chemistry of the actinide [and transactinide] elements for both the nuclear technologist and the inorganic and physical chemist," and to be consistent with the maturity of the field, the fourth edition is organized in three parts.
Springer; 2011
---
---
---
---
---
About this site
The author- or copyrights of the listed Internet pages are held by the respective authors or site operators, who are also responsible for the content of the presentations.
To include your website to the Internetchemistry directory, please use our registration form or send us an eMail.
Entries: 23
Update: 13.04.2016
Keywords: Chemistry, physics, properties, data, chemical, actinides, transuranium, element, compounds, Berkelium, Bk
---
---
Permalink: http://www.internetchemistry.com/chemical-elements/berkelium.php
---
(C) 1996 - 2018 Internetchemistry
---