---
Aluminium
Chemistry and physics of the chemical element aluminum.
---
Aluminium - symbol al, atomic number 13 - is a metallic chemical element of the third main group (boron group).
Below you will find online available information resources about the chemistry and physics of aluminum and the aluminum compounds.
---
---
Content
---
---
---
---
Information and data about the element
---
Aluminum, Al
Chemical and physical properties; comprehensive data. Environmental Chemistry, USA
Aluminum, Al
Chemical and physical properties. Webelements, UK
Aluminum, Al
Chemical and physical properties. Visual Elements, Chemsoc, UK
Chemistry of Aluminium
Article, University of Denver
Extraction of Aluminium
Article, Chemguide
---
---
Atom, Orbitals, Radiochemistry
---
Atomic Data for Aluminum (Al)
Basic Atomic Spectroscopic Data. NIST
Isotopes of Aluminium
All known isotopes of the chemical element aluminium. Jefferson Lab
Radiochemistry of Aluminum and Gallium
PDF document, National Research Council - Format: PDF
---
---
Group Elements - Information
---
Boron-Aluminum Family
Hypertext chemistry
---
---
Compounds
---
Aluminium and aluminium compounds
Database search form aluminium and aluminium compounds: properties, safety data, available products etc.
---
---
Analysis and Determination
---
Aluminum Qualitative Analysis
Separation and Identification of Group B Cations - Format: PDF
Analytical Methods: Aluminium
Elements by ICP (nitric/perchloric acid ashing / aqua regia ashing / hot block/HCI/HNO3 digestion) and CPDS. NIOSH Manual of Analytical Methods, NMAM
---
---
Geochemistry and Biogeochemistry
---
Aluminium
Statistics and Information. USGS
Aluminium Minerals
The mineralogy of Aluminium. Webmineral
Bauxite and Alumina
Statistics and Information. USGS
---
---
Safety
---
Nuclide Safety Data Sheet: Aluminium-26
Data sheet - Format: PDF
---
---
Toxicology and Medicinal Chemistry
---
ToxFAQs™ for Aluminum
This fact sheet answers the most frequently asked health questions (FAQs) about aluminum. ATSDR
Toxicological Profile for Aluminum
The ATSDR toxicological profile succinctly characterizes the toxicologic and adverse health effects information for the hazardous substance described there
---
---
Journals
---
Aluminium Today
Aluminium International Today. Aluminium production and processing worldwide
---
---
Articles and Reports
---
Super-heavy aluminum isotopes
Three first-ever atomic nuclei created at NSCL. New super-heavy aluminum isotopes may exist
---
---
Organisations
---
The International Aluminium Institute
World Aluminium Organisation
---
---
---
Related Books and Scientific Literature: Aluminium
---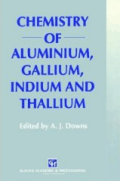 A. J. Downs
Chemistry of Aluminium, Gallium, Indium and Thallium
A detailed, wide-ranging, authoritative and up-to-date review of the chemistry of aluminium, gallium, indium and thallium. Coverage is of the chemistry and commercial aspects of the elements themselves; emphasis is on the design and synthesis of materials, their properties and applications. Springer, 2004.
Springer; 2004
---
---
---
---
---
About this site
The author- or copyrights of the listed Internet pages are held by the respective authors or site operators, who are also responsible for the content of the presentations.
To include your website to the Internetchemistry directory, please use our registration form or send us an eMail.
Entries: 21
Update: 13.04.2016
Keywords: Chemistry, physics, properties, data, chemical, element, compounds, Al, aluminium, aluminum
---
---
Permalink: http://www.internetchemistry.com/chemical-elements/aluminium.php
---
(C) 1996 - 2018 Internetchemistry
---